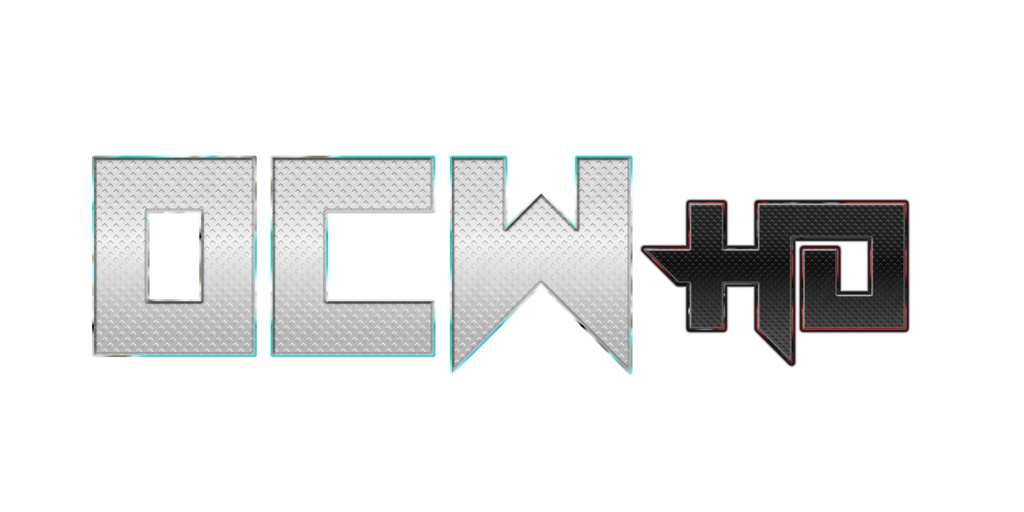 NEW YORK CITY
The Camera pans to ramp as an old nostalgic tune hits and the duo of Scaggs and Poling head down to the ring!! The packed crowd roars in excitement and begins to chant "OCW" OCW" "OCW"

| | |
| --- | --- |
| | Ladies and Gentleman! |
| | Welcome to the Biggest Anniversary Show in History! |
| | |
| --- | --- |
| | 11 Matches, and almost every Championship on the line! |
| | Strap in! It's about to get real! |
The scene opens up on a soundstage that resembles that of legendary late night talk show hosts like Johnny Carson, David Letterman. The house band that seems to be comprised of a Limp Bizkit cover band start playing some music as Mugen and Drago walk in from opposite sides of the stage and wave to the audience.

Mugen takes his seat behind an exquisite wood desk as Drago takes his seat on the leather couch next to Bubba. We see the crowd doing the wave as they were instructed on cue.

Mugen: Welcome to theeeeeeeeeeeeeeeeeeeeeeeeeeeeeeeeeeeeeeeeeeeeeeeeeeeeeeeeee P3 Bonanza Show!

Mugen points at Drago and back at himself repeatedly as the camera swings back and forth between the two like a yo-yo.

Mugen: I'm Mugen, that's meeeeeeeee. And this is Dragogo Gadget and we are P3, The Platinum Platonic Partners.

The Audience Starts Applauding on Cue.

Mugen: As part of the program to ensure that I stay as the King of Kindness, Versus(OCW LEGEND) taught me to channel my negative thoughts through my artistic abilities. Pew Pew!

Mugen starts shooting finger guns as machine gun sounds start going off on the TV. Drago follows Mugen's lead and starts shooting off his imaginary machine gun with FULL FORCE.

Drago: DIEEEEEEEEEEEEEEEEEEEEEEEEE HAAAAAAAAAAAAAAAAAAAAAAAAAAAA

The two of them both stop as they have ran out of their invisible bullets.

Mugen: SO! I thought what better thing to do then take my comrade here, Drago and create the most talked about talk show in the universe.

Drago: Who talk about it?

Mugen stares blankly at Drago and blinks a few times.

Mugen: People...........

Mugen pulls out a big red button from underneath his desk and presses it. A canned laughter starts playing over the audio system before Mugen throws the button towards the audience and off camera.

Mugen: Tonight! We have our first wiggity wiggity wiggity wonderful guest. You know him as Our Hero, we know him as Our """"Hero"""".

Mugen and Drago both start doing furious air quotes in unison as Bubba growls loudly.

Mugen: You might know him as The Boss of OCW but we simply refer to him as…………….Boss

Drago: Bawse. Sawce. Rick Rawse. Santa Clawse. Cet Pawse.

Mugen: Oh my giggidy giggidy gawsh, cheers MC Drageezy. So please, give us a warm welcomeeeeeeeeee to Mr. Jaysin………….CLINTON………...SENSAAAAAAAAAAAAAAAAAAAAAA AAAAAAAAAAAAAAAAAAAAAAAAAAAAAAAAAAAAAAAAAAAAAAAAAA AAAAAAAAAAAAAAAAAAAAAAAAAAAAAAAAAAAAAAAAAAAAAAAAAA AAAAAAAAAAAAAAAAAAAAAAAAAAAAAAAAAAAAAAtion.

Our Hero walks out from behind the curtain with a very confused face giving a slight wave to the audience who are out of their seats giving a standing ovation. We see a woman crying holding a Puerto Rican flag as she yells "MI GENTE".

Mugen shakes Our Hero's hand furiously and bows to him exactly 3 times as Drago runs over for a handshake as well.

Drago: CONGRAAAAAAAAAAAAAAAAAAAAATULATIONS YOU ARE NUMBER 1! WE APPRECIATE YOU!

Drago pulls a lifesize cutout of the number 1 from behind the couch and gives it to Our Hero.

Mugen: HE IS NUMBER ONE! YOU KNOW WHO WAS NUMBER 1 LAST YEAR? ME! YOU KNOW WHO WAS NUMBER ONE BEFORE ME? SMITTY WERBENJAGERMANJENSEN. HE WAS NUMBER ONE.

Drago is still clapping as he takes a seat over to the other edge of the couch closer to Bubba. He leans down towards Bubba and shakes his head in agreement.

Drago: Bubba want to congratulate you as well for being number 1. Good job have a nice TIME!

Drago takes Bubba's paws and has him clap his paws over and over in true appreciation. He then takes a top hat from the back of the couch and puts it on the lion's head.

Drago: HOLD ON I HAVE IDEA. I shall return.

Drago runs off camera to the bewilderment of Our Hero who has now taken a seat.

Mugen reaches underneath his desk and pulls out two party hats, a gold one and a pink one....Our Hero looks on in utter confusion.

Mugen: Which one do you think I look better with big bossman.

Our Hero: Um……...gold I guess?

Mugen: Great choice!

Mugen places the gold one on his head and adjusts the strap. He then takes the pink one and reaches over towards Our Hero and places it on his head too.

Our Hero blankly stares at Mugen as he starts to remove it.

Mugen: Too tight? Haaaaa no such thing but…….HOLD ON!

Mugen reaches under the desk and pulls out a pink cowboy hat with feathers and leopard stripes on it. He places it on top of Our Hero's head and admires his work with a clap and a spin in place before putting on a tiny gold cheetah print hat on his own head!

Mugen: PERFECTOMUNDO!

Our Hero: Why am I on this thing......?

Mugen: Um………...because I paid you to be on?

Our Hero: You never paid me………..

Mugen: Um…………………………..Drago paid you?

Our Hero: He never did……

Mugen: Um……………………..because we are pals, and I'm the King of Kindness and I want you to have a platform to promote your next business venture. RIGHT I GOT IT!

Mugen takes his phone out and takes a picture with Our Hero decked out in his new Pink Cowboy Hat.

Mugen: Let's post this to Instagram……..

Mugen starts typing away on his phone while talking out loud.

Mugen: Boss Guy Pink Hat….let me finish this off with some hashtags…..#PuertoRico #NY #BX #BK #RicanExcellence #PinkHats #DudesWearingPink #Brazzers #BaconMe

Mugen: So like, what's your favorite kind of raspberry?

Our Hero: ...What...what in the fu.......

Just then, the wall explodes with what looks to be a massive gorilla! Imagine the Kool Aid Man, but a Gorilla.

Gorilla: RAWR! I gorilla.

Our Hero looks at the lifelike gorilla with confusion and inexplicable anger.

Gorilla: (gorilla noises)

The gorilla picks up Mugen's desk and tosses it to the ground, shattering it into pieces.

Our Hero: ! YOU! F*** YOU!

Mugen: LANGUAGE! BEEEEEEEEEEEEEEEEEEEEEEEEEEEEEEEEP

Gorilla: (gorilla noises intensify)

The gorilla beats his chest and Our Hero stands up from his seat, pointing at the gorilla.

Our Hero: You muthaf*****s are EXACTLY what I dreamed about the other night! Y'all tryin' to f*********** usurp me?????

Our Hero starts pounding his chest in repeatedly and making the same grunting noises back at The Gorilla. The Gorilla gets even louder which in a fit of rage forces Our Hero to start ripping his shirt down the middle like Hulk to reveal a Puerto Rican Flag wife beater.

We find the woman with the Puerto Rican flag in the crowd again sobbing hysterically this time yelling "MI GENTE".

Mugen: BEEEEEEEEEEEEEEEEEEEEEEEEEEEEEEEEP

The Gorilla steps up to Our Hero and starts making noises in his face.

Our Hero then proceeds to slap the gorilla in the face….causing his head to go flying? He looks at the fallen gorilla head then back at the gorilla to see that it was Drago behind the suit all along!

Drago: Uh. I make gorilla noise.

Our Hero: ..........

Our Hero strikes Drago.

Our Hero: WHAT TEH FU...

The Camera fades as Mr.Sensation is hurling pieces of the broken desk and bad language at Drago and Mugen who are running off screen while the studio audiance continues to clap and cheer!

WE'LL BE RIGHT BACK
The Camera pans to the announce team!
| | |
| --- | --- |
| | This is the kind of thing that turns someone into a Super Villian! |
| | P3 IS ABOUT HAVING FUN CHARLES!!! |
RICKY "THE DRAGON" RAGNARATH
vs
JACOB TRANCE*
The Camera pans to the announce team!
| | |
| --- | --- |
| | Holy hell! |
| | Now thats how you start a show! |
The Xtron flickers to life focused in a dimly lit locker room, the camera zooms into a figure lent against the sink in the washroom, a rag in his hand, his long black hair flowing down his shoulders, from the flowing gothic style shirt, the painted nails, the crowd can see in the mirror that the man in focus is Lucas Crowe, his scarred face, dark eye make up and black lips filling the mirror.

Crowe: Most people don't know, but this is my 10th year in OCW, 10 years....10 years on and off I've been in this company, on this long road....I've held championships, defeated legends, guided, betrayed..

Crowe: I was a member of the first team to beat the Legendary A-Team....an accomplishment in itself..but most of you don't even remember the A-Team!

Crowe: You should be glad they aren't still around, they were possibly my greatest rivalry, fondest memory...they would have you snowflakes working corners in a heartbeat.

Crowe: Much like myself and James Rose, we didn't just beat people, we taught them lessons in the ring.....educated them.

He lifts the rag to his face and wipes away the black lipstick from his mouth.

Crowe: And do you know what the greatest lesson I've learned in my years here, the most important lesson that you will all eventually come to realize....people SUCK.

He wets the rag and starts to rub his eyes, removing the dark eyeliner and make up from around his eyes, he then pulls open his eyelids and removes the bright yellow contact lenses in his eyes, and drops them in the sink

Crowe: Grimm, Phoenix, Raine, Raze, Malice, Crossbones, Blackbeard, Winters.....Pyra....All people I took in, embraced as my Kindred, gave Sanctuary too when the rest of society shunned them.

He lifts a pair of scissors up to his hair and starts chopping off chunks.

Crowe: And all it boils down to is this.....You can't depend on anybody but yourself, I've offered my hand for the last time, from now on I'm doing it alone, riding solo, a lone wolf breaking from the shackles of the pack.

He lets out a loud sigh.

Crowe: The world is changing, the landscape evolving, we have this anime cancer spreading like wildfire, old faces riding off into the dusk, it's no country for old men out there anymore, most of you wouldn't have made it this far in the old country, but luckily for society, snowflake season is in fashion, but pretty quickly, it's going to be 'Old Country Way' for some of these young bucks.

He reaches down into a bag on the floor and pulls out an old bandanna and what looks like a leather cut, he removes his black shirt, screws it up and puts it in the sink, with chunks of his hair, he removes some matches from his pocket and lights the pack, and tosses them into the sink, setting fire to the shirt.

The flames temporarily flare up, causing him to take a step back, he slips on his leather cut, the camera zooms back and the words and logo 'Dead Crows MC' can be seen on the back of the cut.

He ties the bandanna round his head, as the fire is simmering away.

Crowe: The vampire is dead, but the man rides on,the road still calls, no friends, no home, just the journey, Lucas Crowe is no more, you can call me....Nomad.

The camera fades to black as the fire in the sink begins to die down and the Xtron goes silent.
The Camera pans to the announce team!
| | |
| --- | --- |
| | HOLY S*** |
| | THE MOOD IS ABOUT TO CHANGE! |