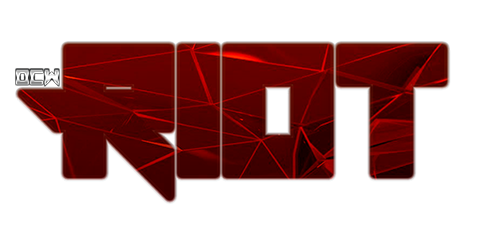 LIVE FROM MADISON SQUARE GARDEN
The camera pans to the announce team.
| | |
| --- | --- |
| | Welcome to Riot Episode 478 |
| | Closer and closer to 500! |
| | |
| --- | --- |
| | We have an amazing show for you tonight! |
| | And The Main Event LEGENDS BATTLE, Paul Pugh vs Dupree for the Light Heavyweight Championship! |
The scowl on the face of the anomaly of success, the facilitator of concussions, Our Humble Hero: Dennis Black was in full effect. Perhaps more so than usual as he hobbled around the ring. He was in bad shape.

View briefly pans to the audience who are holding signs for Bill Ding and Big Ed, and neither of them are even on the show! Dennis winced as he lifted the mic to speak.

Dennis: August 28 of last year, I walked into the main event of Summercide as the Television Champion. I had the support of the entire Turmoil roster and the OCW universe as I prepared for what was the biggest night in Turmoil history, up until Black Sunday.

Dennis: An Iron man match, title for title against Malu. Two men walk in, one leaves with both championships. Two championships that I still hold, mind you…

Still showing the effects of Black Sunday, Dennis limps toward the direction of the X-Tron. He stops once he reaches the ropes.

Dennis: Turmoil is a place of opportunity, a place where the young can thrive without bastage politics...something that plagues Riot til this day.

Dennis: That does not mean Jacob Trance getting a shot at the most prestigious title in this company. I demand that his opportunity be canceled.

Dennis: I demand that Drago's OCW title be handed over to me. Another thirty days have gone by without an OCW title defense. We've got another Ortiz on our hands and the fans deserve better…

Dennis: They deserve me!

The fans boo the Turmoil Champion loudly.

Dennis: I know you're out back somewhere, Sensation. Give me what I'm entitled to!

Dennis stomps his feet, hurting himself in the process.

That old sweet tune hits and Our Hero saunters down to the ring. Looking ever weary (does this guy ever get to sleep? The Answer is no, no he never does).

He climbs through the ropes and ignores "The Humble Hero" without acknowledging him. This irritates "The Anomaly of Success"

He calls for a microphone and a stage hand under hooks it gingerly into the paws of Our Hero.

Our Hero: Dennis…

Our Hero leans back into the turnbuckle trying to DDP Yoga stretch his back and neck, obvious signs of jet lag with a bevy of other projects on the table setting in, the man is burning the candle at both ends and it shows!

Our Hero: Dennis…..I mean what more can be said? By hook, by crook or by thumb to the eye and a knee to the face here you are the OCW Television Champion and the OCW Turmoil Champion.

Dennis: Eternal Ex Division Turmoil Champion.

Our Hero: Turmoil Ex Division Eternal Champion?

Dennis: Eternal Turmoil Ex Division Champion!

Our Hero: Well which is it?

Dennis ponders……

Dennis: Both!

Our Hero: That's not how that works!

Dennis: That's how it always works!

Our Hero: .........Eternal Turmoil, Turmoil Eternal, EX, Television Univision, Galavision, Coleco Vision, I really don't care. Congratulations nonetheless against all odds you are still the Champion. And against all odds you are seemingly the biggest bitch on the roster.

The Crowd Cheers!

Our Hero: I mean look don't get me wrong this whole Summer of Black thing you got going on, I can dig it! I am hip to what the kids are into. I mean I don't fully understand it, but hey I am old and out of touch!

Dennis: Finally we agree

Our Hero: I mean the fact that a 160lbs soaking wet with bricks in his pocket, seemingly has Turmoil on Lockdown is quite impressive, your victory at Black Sunday was impressive. Everything about you is impressive.

Dennis begins to swell with pride as the boos grow.

Our Hero: But there is just one problem….

Our Hero: You stink Dougie!

The Crowd Cheers!

Our Hero: And I don't like you!

The Crowd Roars into Dougie Stinks chants!

Our Hero: See I have an app on my phone that helps me keep an eye on ratings and fan interactions, metrics and the like. Now I won't bore you with the details but I will tell you this when you see +Green that means we gained subscribers followers influence et cetera! When you see -RED that means we lost subscribers.

Our Hero: So let's see what we can see, shall we?

Our Hero Clicks through and gets the app put on the big screen. He scrolls to Nate becoming champion and a huge bump of 450K. He then scrolls to Dennis Black retaining at Road to Glory to show a Loss of 250K.

Our Hero furrows his brow….

Our Hero: Could just be bad luck!

Our Hero clicks through Wrestlution and shows Drago becoming Champion and a 700K Bump! He then shows Dennis Black Defeating Matsuda and it shows a 300K drop.

Our Hero: ....could just be an anomaly…...

Our Hero once again clicks through to Black Sunday 2017, you can see various dips but the score keeps increasing steadily. Our Hero eyes light up!!!

Our Hero: Ah just as I...oh wait…

Our Hero gets to Dennis Black Def Big Ed and Jackson and shows a 1 Million Drop!!!

The crowd goes Ohhhhhhh!

Our Hero: I'm a simple guy Dennis, and the numbers don't lie they spell disaster every time your tiny behind, snakes a win.

Our Hero: That's 1 Million People sick of the Black Summer! And now you are gonna stand here, stamp your feet and DEMAND yet another title opportunity? You know what just for posterity's sake let's type in Bill!

Dennis: DON'T YOU DARE OLD MAN!

Our Hero: Ding…..

The App shows a 900K Bump for Bill Ding!

The Crowd Cheers and Dennis quickly snatches Our Hero's phone and Knees it into the crowd!

Our Hero unphased as Dennis Black gets in his face!

Dennis: OLD MAN YOU'RE GOING TO GIVE ME THIS OPPORTUNITY, I DESERVE IT, I AM ENTITLED TO IT, EVERY OBSTACLE YOU PUT IN MY WAY I HAVE DESTROYED, I DON'T GIVE A DAMN WHAT SOME APP SAYS, I DON'T GIVE A DAMN WHAT THESE PEOPLE THINK! AND YOU KNOW WHAT I DON'T GIVE A DAMN ABOUT OCW!!!!!

Dennis: I AM OCW!!

Dennis: NOW GIVE ME WHAT IS RIGHTFULLY MINE!!

Our Hero ponders for a moment. He then make his way to the ring announcer and whispers in his ear. The Ring announcers heads into the ring, while Our Hero heads back up the ramp he nods at Dennis in agreement as if to say "Ask and you shall receive".
Dennis with new found pep in his step begins to smugly look at the crowd as boos ring in.

The announcer begins to speak.

Announcer: Ladies and Gentleman I just been informed that The OCW Television Champion, The OCW Eternal Turmoil Ex Division Champion, Dennis Black will be given!!!

Dennis eyes light up!

Announcer: A Police Escort out of the building!

The crowd explodes in cheers!

As police officers swarm into the ring they easily corral the champ and seemingly crowd surf him out of the ring, as he beings to high pitch scream to be let go!

The crowd begins to chant Na NA NA NA NA NA HEY HEY HEY GOOD BYE as the Turmoil Champion is carried out of the building.
The camera pans to the announce team.
| | |
| --- | --- |
| | HE IS OUTTA HERE! |
| | How can you be happy? Is this Bizzaro World? Is this NEW 32???? DENNIS BLACK IS THE CHAMPION SUCH DISRESPECT!!! |


Kwan Watts vs Lawrence Larkspur
The camera pans to the announce team.
| | |
| --- | --- |
| | Ouchies! |
| | He got all of it! |
Previously Recorded

Heather is spotted at a local MMA gym somewhere near the city. She's has been working out immensely as of late with her father.

The gym is quite empty with only a handful of people attending at such a late hour. But you can hear the echos of a father and daughter duo swallow all the sounds of the gym.

The two of them rest in their corners exhausted.

Heather: What's the matter old man? You can't go toe to toe with a woman?

Blackout: Too much talk. Not enough action. Have you learned anything from the men you've aligned yourself with?

Heather: What do those men have to with anything I'm doing?

Blackout: Betty Ford caught you slipping! You millennials or so naive and careless about everything!

Blackout turned his back towards his daughter and started drinking his water. He swishes it in his mouth and spits it out ringside.

Blackout: H2O ran his mouth and damn near falls into depression afterwards. Big Ed, how's he working out for you?

Blackout: He's similar to H2O. Another one who runs his mouth and also gets his head decapitated by the… BLACK Bullet (smirks at the thought).

Blackout: The only one with any balance, any respect behind his words you've failed to keep him happy. You failed to stand by his side…100 percent. How disappointing my daughter. Feels as though I'm wasting my time.

Heather takes off her head gear and throws it at her father's back. She gives him her death stare and walks out of the ring.

Blackout mutters something under his breath as she walks away.

Blackout: Hmph. I've got to crack open your inner beast my child. It has to be soon. Very soon.

Heather walks over to the water fountain to take a breather. As she wipes the sweat off her face with her towel she hears the sound of someone punching the life out of a punching bag.

She walks over to the other section of the gym where she hears the sound is coming from. It's Holly Hunter training by her lonesome.

Heather casually walks up to the bag and holds it steady for her. Holly looks up and the two lock eyes. Holly stops for a moment and gets back to swinging. Only this time, much harder now.

Heather: Thanks for last week…

Holly stops.

Holly: We can cut this off right here. I'm out for Holly, and Holly only. If we cross paths in the ring again I'm going to drop you just like I did the last time. You may as well keep your thanks and put your effort toward being more than you are.

Holly: This woman right here is focused on doing to Sophia what I should have done at Wrestlution. If she isn't scared she'll answer the call.
The camera pans to the announce team.
| | |
| --- | --- |
| | This is perhaps one of the most dangerous pair of Women in OCW! |
| | Tonight is going to be a brawl! |