PRESENTED IN WIDESCREEN
The scene opens with Wrex staring blank-faced at the scene showing the ending of the Future Investment match with his finger on the rewind button of the remote in his hand

Jim Black Wrex?

Wrex Jimmy.

Jim Black What happened out there?

Wrex He won, he f**kin won. He actually found a way to steal that damn case.

Jim Black What do you mean he stole it?

Wrex grabs Jim by the shoulder and pulls him in front of the TV, hitting rewind and replaying the ending yet again

Wrex That fat b**tard just let him take it! They were in on this together. Am I the only one here who sees this s**t?

Jim Black Maybe he couldn't get up the ladder quick enough?

Wrex You're trying to say if he wanted to stop him he couldn't of just pushed the ladder over, but instead he doesn't, he just slowly starts to climb? Open your eyes! This. was. planned!

He proceeds to throw the remote at the TV before lobbing himself into the chair beside him.

Wrex He stole this from me Jim. He stole that case, he stole my opportunity, he stole my moment and he stole my chance to finally live my dream. And he will need to pay for this. As long as I work here, as long as I can buy a ticket, f**k as long as I can sneak into the building, he will never get to use that case. He stole my chance from me, I'll steal his chance from him. For as long as I live, Austin Lee will never be champion, I promise that.

Jim Black Don't you think this is a bit too much?

Wrex Bit much? Killing him might be just a little bit too much, anything else? No, he deserves everything that's coming to him.
The Camera pans to the announce team!  
| | |
| --- | --- |
| | The plot thickens!!! |
| | I don't know what you are talking about but I don't like it! |
The Camera Pans To The Ramp!
The Camera pans to the announce team!  
| | |
| --- | --- |
| | Are you hyped? |
| | Holy sheet that was amazing! |
The scene opens to Tre Golden standing in the ring in a sharp tuxedo with a bow tie, microphone already in hand, he waits for the crowd to simmer down before calmly beginning to speak.

Tre Golden: OCW!!

The crowd gives another huge pop, Golden smiles.

Tre Golden: I'm so glad to be back in this ring, especially on a night like tonight, the greatest night in sorts.... Wrestlution!

Tre Golden: A year ago today I was on this show, tagging along with a band of misfits and embarrassed by a legend.... a legend I've come to learn is a bit of a weinie but that not the point.

Tre Golden: That night I learned what it means to be a champion, what it means to put it all on the line and fight tooth and nail until you can't get back up.

Tre Golden: I may not be cleared to compete tonight, but I couldn't miss this night for the world. I had to feel this canvas underneath my feet, and I just had to hear the roar and admiration of you the fans.

Tre Golden: I came to let you know I'm ready, I'm ready to return to form, I'm ready to put on a show each and every night for you guys.

Tre Golden: And most of all... I'm ready to get my Afro back!

Tre Golden: Bill Ding! Tobin Frost! You two are on notice! Whoever walks away tonight with the titles, just Know I'm coming for what's mine!

Tre Golden: The North American Championship and the Hardcore Championship!

Tre Golden: No matter who I have to go through no matter how long it takes I will achieve what I set out for!

Tre Golden: And the Tre Golden quest for the Gold starts on Tuesday night on Riot!

The crowd reacts with a huge pop

Tre Golden: Good night OCW!

Tre Golden exits down the ramp as the crowd chants Tre4NA!

The scene fades to Black.
The Camera pans to the announce team!  
| | |
| --- | --- |
| | He's back! |
| | He has a goal now, to follow up! |
| | |
| --- | --- |
| | Up next and I am not making this up Ba Tuo the head Priest from the Monastary / Prison which held Leon for crimes against Humanity! |
| | Only in OCW can something like this be sanctioned! |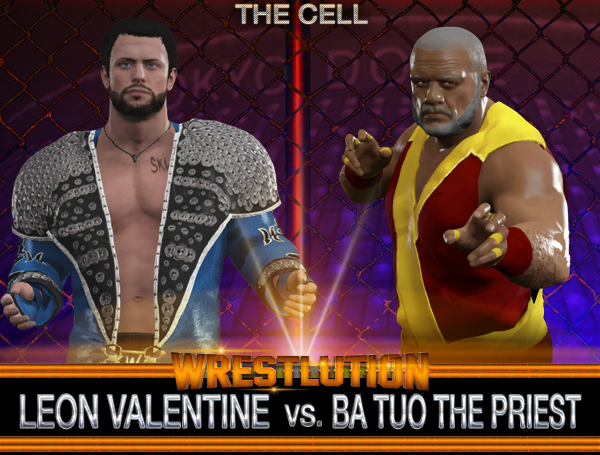 The Camera pans to the announce team!  
| | |
| --- | --- |
| | WHAAAAAAAAAAAAAAAAT! |
| | Oh my! |
We fade into the backstage area, where we see Drago Cesar leaning up against a wall with his arms crossed. He takes a deep breath then turns around and puts his head on the wall. He hears footsteps coming toward his direction.

He turns to see who it is and sees Johnny and Dragana (with a limp) walking toward him. The hunter carries a look of concern as he helps her take a seat onto a nearby crate.

Drago: Thought she stay behind to rest.

Johnny: She just wanted to give you some moral support before your big match. Figured I'd do the same. Oh yeah, we've got a surprise for you!

Drago: Surprise? What this?

Drago then starts to hear something rumbling next to him. He looks at the large cardboard box next to him and sees it shaking. After a few seconds, the box opens to reveal Bubba with his tumtum wrapped up. Drago gets on a knee and starts petting the lion.

Drago: How he get out of hospital???

Johnny: His tummy is not at 100% yet, but we found out that giving him a bunch of ice cream helped with the pain.

Bubba then burps in Drago's face, causing him to cover up his nose and laugh.

Drago: Oh Bubba, gonna have to brush teeth when we get home! You guys really didn't have to do this!

Johnny: We know how huge this is. This is like, the biggest match of your career, ever. You started from the bottom.....and now you're here.

The Crowd Cheers!

Johnny: Win or lose, you've already made me and everyone else here proud. And hell, I know that you and your parents don't have the best relationship, but even then I don't think they'd be too upset seeing that their son has it made.

Drago shakes his head and laughs. He calls them in for a group hug. Johnny can be heard saying something as they're hugging.

Johnny: Go kick some ass out there.

Dragana (whispering): Yes.....

Johnny pulls away from the group hug for a second and looks at Dragana.

Johnny: Did you just say something?

Dragana's face turns red. Johnny shrugs and gets back in the group hug.

The scene fades.
The Camera pans to the announce team!  
| | |
| --- | --- |
| | She spoke...... |
| | Who cut all these stupid Onions...the Japanese don't eat onions.... |