PRESENTED IN WIDESCREEN
The camera fades in to Cort Marshall, sitting in a lounge chair with a glass of whiskey in one hand and a TV remote in the other.

His outfit is a bit more casual than usual; a wife-beater and jeans. He sets the glass down on a table by the chair (no coaster, the heathen), leans forward, and begins to speak in a smug, languid tone.

Cort: I hope you're enjoying yourself at home, fans. I know I am. Watching the best in the world compete; be it for glory, honour, money, hatred, or for the thrill of victory. Watching teeth fly and blood flow. Watching people in pain as they reach deep inside for that last bit of fire they didn't think they had left to keep fighting.

Cort laughs.

Cort: And best of all, knowing that it's all for nothing. Oh, there's so much on the line right now, but in the future? Nothing that happens here will matter. Because I am better than every single person in that ring.

He cups a hand to his ear.

Cort: What's that? What are all you fat, pimply sweathogs running towards your computers to type? "But Coooort, if you're the best, then why aren't YOU on the show?"

He mimes the stereotypical whiny voice for this, drawing out each syllable like a kid who isn't getting a toy at the store.

Cort: Well! WELL! It's because those sacks of half-eaten DOG DOOKIE who run this place think a DECORATED VETERAN with an UNBLEMISHED 2-2 record who has only lost due to CHEATING SHENANIGANS doesn't deserve to...

Marshall coughs.

Cort: It's because I don't need to be. I'll let these old, sad dogs have their day. I'll let these costumed buffoons flip around all they want for the approval of the idiots in the audience. I'll let the crazies and the creeps beat each others' heads in.

Cort: I don't need Wrestlution... but Wrestlution needs me. OCW needs me. They need me to show them what a real man is. What a real champion is. What a real, red-blooded American should be. Come next year my face will be front and center on every poster, with the rest of the rabble fighting for the scraps on the side of the page.

Cort: By this time next year, the world will know who the new face of OCW is. The people in that ring, they will doubt me. They will get hurt, and they will learn. They will learn to kiss my boot or get kicked in the head by it. I will make OCW DROP AND GIVE ME TWENTY!

Cort: … But not tonight. Tonight, I am watching. I'm watching your moves, I'm watching the way you come off the ropes. I'm learning your weaknesses. I will know every little mistake that even you don't know you make, and when it comes time, I will use it to take what is rightfully mine.

Cort: So enjoy the fool's gold around your waists, champions. Revel in your parties, and your celebrations. Enjoy it while it lasts, because nothing lasts forever.

He taps a button on the remote, silencing the TV as the camera cuts away.
The Camera pans to the announce team!  
| | |
| --- | --- |
| | What a total sour puss! |
| | Doesn't mean he is wrong! |
| | |
| --- | --- |
| | Speaking of Sour, the King of Sour pusses Paul Pugh defends his Light Heavyweight Championship Against The Betterness Tiberius Dupree! |
| | Get ready! |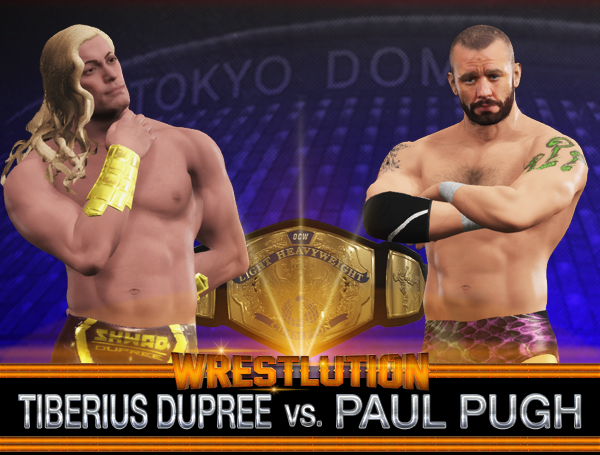 The Camera pans to the announce team!  
| | |
| --- | --- |
| | Woah! |
| | He got all of it! |

The Camera Pans To The Ramp!