KD stands dead centre in the ring, mic in hand, angrier looking than usual.

KD: Seein' as how I ain't booked tonight, and I can't get my hands on that lil' sissy boi Kassidy, I'm fitting to break my boot off in someones ass right here, right now.

KD rubs his boot on the mat like a bull getting ready to charge.

KD: I got anger to unleash, I gotta break someone, so I'm having a match right now!

KD: Parker, get out here and catch this whoopin'! Get yo ass out here now!!! The garden needs feeding!!

KD flexes in anger and crushes the mic in his hand, the broken parts crumbling to the mat which he wipes away with his boot as he waits for a response.....
K.D ANGLEO VS ????
Loading the player...

The Camera pans to the announce team!
| | |
| --- | --- |
| | WHAT!!!! |
| | ........................ |
Nate Ortiz is seen backstage pacing outside of the Revolution Inc lockerroom. To his right you can see another door with the name Nate Ortiz labeled on it.
(When you're the Greater that G.O.A.T. you get those things.) He doesn't have the calm look that he had earlier in the night as his match draws closer. Jim Black walks up to try and grab a few words.

Jim: Nate may I have a few minutes of your time.

Nate stops his motions, shaking his arms and hopping around, and stands next to Jim.

Nate: Go for it Jim.

Jim: What are your thoughts about Majin saying he couldn't compete tonight?.

Nate: It's disappointing to say the least. We have a very long history. In some ways we are OCWs own Batman and Joker.
Nate: I would have relished the chance to pay him back not only for my hair on Riot, but for everything that we've gone through over the years.
Nate: We'll see who he gets to replace him though, I'm here to fight tonight, and fight I will. I know I'm not the invincible Golden Boy that I was.
Nate: You've been a witness just like everyone else to the last two times I stepped into a ring on PPV. I've fallen short at every step. It is something I don't take lightly.

Jim looks very surprised at these comments.

Jim: Not the typical confident Franchize tonight. What is your mindset going into your match at Summercide 10?

Nate: This is everything Jim. We are in the Staples Center, home to Wrestlution 1. Site of one of my greatest triumphs and failures.
Nate: We are at the 10th aniversary of Summercide where and you'll have to excuse my memory I've only won once.
Nate: That was in a 4 way elimination match where I got the better of Mayhem, RD Money and my brother Versus.
Nate: Outside of that night I lost to AJ Phoenix in a triple threat, then Leonheart in a triple threat, and most recently Tiberius Dupree.

Nate: In an otherwise storied career this has been the black mark. Not only that I go from facing a man who tried to end my life 10 years ago to an unknown.
Nate: I wouldn't be surprised if this is another one of his mind games. It's like he keeps trying to push me over the edge. Like he wants me to become the monster that he is.

Nate looks at Jim with anger as he speaks.

Nate: Majin doesn't understand that the monster is already here! I try to hold it back but damn it sometimes you have to become a monster yourself to defeat the bad guy.
Nate: I don't care who it is that is gonna meet me in that ring, they are in for a fight. As much as I know I'm not the same man I was I still remember.

Nate: I remember all of the times I feel like I could have done something more. All of the wars, all of the battles I've been in.
Nate: With Majin, Versus, Pugh, RD, Dupree, Leon damn it even Smythe. They all weigh on me. I'm just too old for this shit Jim.

Nate begins to pace.

Nate: I gladly join this fight tonight. I don't know what I'm in for but I know I can take it. They don't call me Mr. OCW, The Franchize, The Mountain, and Greater than the G.O.A.T.
Nate: Because I can't handle it. I'm not afraid to sweat, not afraid to bleed, will run through anyone, Majin, T.O.P. or anyone else they put in front. I'm OCW's Franchize Nate F**kin Ortiz!

As Nate finishes up out of the Nate Ortiz locker room comes Tiffany Sensation Ortiz and daughter Ellie. They come and hug Nate as the cameras cut back to ringside.
The Camera pans to the announce team!
| | |
| --- | --- |
| | THE BETTER THAN GOAT IF FIRED UP!!! THIS IS GONNA BE GREAT!!! |
| | This is gonna be one to write home about! |
| | |
| --- | --- |
| | Up next Former Allies now bitter rivals!!! |
| | The South's Favorite Son and The Last Action Hero! |

JACKSON MONTGOMERY VS B-17
Loading the player...

The Camera pans to the announce team!
| | |
| --- | --- |
| | Ohhh cmon!!!!!! |
| | Baw gawd!!!!! |
The pay per view was going smoothly. OCW was certainly cleaning up. The audience could be heard as Madison sat on one of the benches outside the arena.
She kicked off her heels before crossing her legs and folding her arms. There were whistles from drunk pedestrians here and there that went ignored for the most part.

She held out her cell phone and listened to the outgoing rings on her speaker phone. Six rings went by before it finally went to voicemail.

Madison: I don't know where you are. But I hope you're okay. You need to get here. Just tell me where you and are and I'll come get you.
Madison: I guess I just don't understand why you aren't here. You checked out of the hospital while I was passed out.
Madison: You miss your flight. Then I lose to that bitch. My frap was bad. No one makes it the way you do. I guess what I'm trying to say is...Come back to me, I miss -

Madison blinked several times when she ran out of time on her voicemail. In fact, none of the message was recorded.

Madison: Oh, son of a bitch! God dammit! Go Tank yourself, stupid phone!

She throws the phone into the street and it is hit by a car immediately. Madison sighed and sat back down on the bench.
Alex spots Madison once she exits the arena and walks over with a coat in her hands. Madison looks up as Alex places the coat over Madison's shoulders.

Alex: We'll get her next time.

Madison: Of course we will.

Alex: ...Are you crying?

Madison: Sweat.

Alex: Oh, okay. Any sign of Dennis?

Madison: None…

Alex: Let me know when he gets here. Or I can wait with you.

Madison: You'd wait with me?

Alex: Of course. That's what besties are for.

Madison: Thanks....now where is Ginger? I need to go steal his phone.

Alex: Where is yours?

Madison: A Brazilian corned me at gunpoint point and took it.
The Camera pans to the announce team!
| | |
| --- | --- |
| | Touch moment! |
| | Bullshite! |
The X-Tron Flickers On!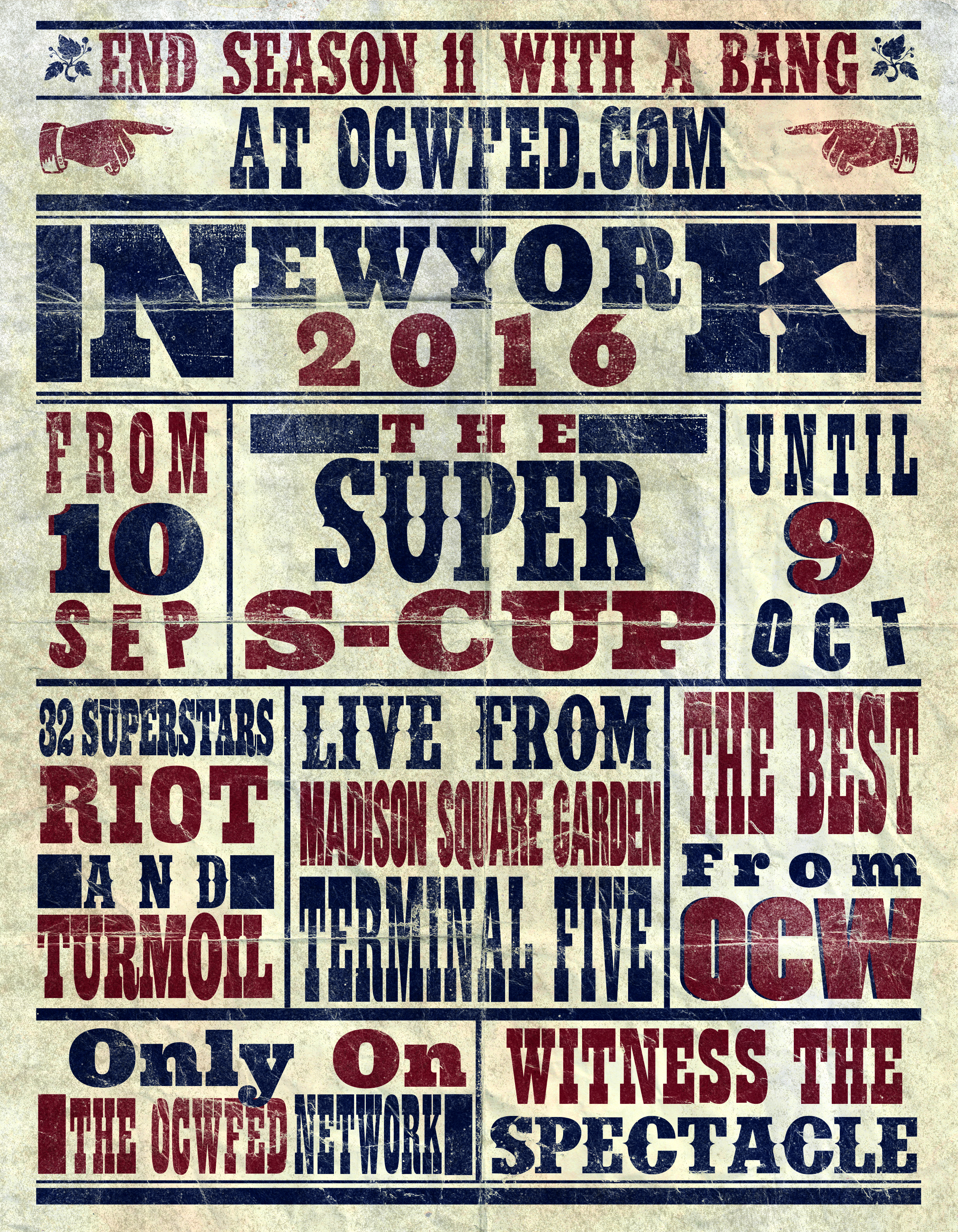 The Camera pans to the announce team!
| | |
| --- | --- |
| | Its gonna be a great one! |
| | Anticipation Building! |
Flynn is backstage, he's pretty beat down after his match. Anthony Baker comes in all dressed up and as happy as larry.

Baker: "Dad, Dad... Guess what?"

Flynn with a sad expression: "What?"

Baker: "I WON... I WON... I WON. "

Flynn literally face palms

Baker: "I BEAT THE BOTH OF YOU DINGLE BERRY'S!!!"

Flynn: "You beat Matt Sheldon, you didn't beat me."

Baker dances around the room singing and laughing like a child.

Flynn: "So... Do you want to join my band?"

Baker: "Your band... Let me think about that... Nope!"

Baker starts giggling.

Baker: "People actually like me now. I am onto better and bigger things. I still love you, but dad... This is goodbye."

Baker dances out the locker room.

You can see in Flynn's face that he is a bit down.

Flynn: "All I wanted was a band."

Voice: "HEY!!!"

Flynn turns around as a guitar is thrown at him, luckily for him he catches it. Standing in front of him is Matt Sheldon.

Matt Sheldon: "I'll join your band."

Flynn: "You will? But you don't even like me?"

Matt Sheldon: "Naw, you are a pretty cool guy really. Besides I always wanted to be in a band."

Flynn face begins to light up.

Flynn: "YOU REALLY WANT TO BE IN MY BAND? NO ONE HAS EVER WANTED TO BE IN A BAND WITH ME???"

Flynn then has a thought.

Flynn: "Wait a second, you're just playing with me, aren't you."

Matt Sheldon: "Nope. I know we played a few pranks on each other recently but I REALLY WANT TO BE IN YOUR BAND!!!"

Flynn: "Do you know how to use a instrument?"

Matt Sheldon: "Yeah, I can play guitar, better with the electric ones and I can also play piano. I don't do drums though."

Flynn: "WE REALLY DOING THIS THEN???"

Matt Sheldon: "Yeah, WE REALLY ARE!!!"

Flynn who is super excited begins to sing with his guitar.

Flynn: "WE'RE GOING TO BE A BAND, WE'RE GOING TO BE A BAND."

Matt Sheldon: "So what do you say we blow this Popsicle joint and get out of here?"

Flynn: "Hell yeah, wait........................ We need a third member and Baker. Yeah Baker ditched me."

Flynn gets sad again.

Matt Sheldon: "Screw Baker! I know exactly who we need."

Flynn: "You do...?"

Matt Sheldon goes to the TV , he has one of them old VHS tapes on him and luckily. The TV in Flynn's room is old enough and has one... Matt puts in the tape and works the TV.

Matt Sheldon: "Come take a look at this."

Loading the player...

Flynn: "Wait, now I am confused?"

Matt Sheldon: "You never heard of SOUL GLO???"

Flynn: "I seen them commercials before but I didn't know he was an actual person."

Matt Sheldon: "Yeah, back in 2007 when I was Matt Spears. He was here in OCW. So what do you say on going on an adventure with me in search of Soul Glo?"

Flynn: "Do you think he would join our band?"

Matt Sheldon: "I don't know but we can try right? He has the power of positivity and that's exactly what the both of us need. We need some SOULLLLLLLLLLLLLLLLLLLLLLLLL GLOOOOOOOOOOOOOO!"

Flynn: "I have nothing better to do, let's do it mate."

Flynn picks up his bag and Clothes and both Flynn and Matt embark on a journey in search for SOUL GLO!
The Camera pans to the announce team!
| | |
| --- | --- |
| | Those oh lord! |
| | For serious! |
Pre-Recorded hours before showtime.

The silence in the Purge locker room is very eerie. The camera is specifically in their connected bathroom. After a minute or so, Lacy walks in with a myriad of make-up bags.
She places them all around the sink and positions herself in front of the mirror. She pulls her hair back into a ponytail, to keep it out of the way. As she begins to apply her Purge mask for Summercide, you can hear Dimsmore in the other room reading aloud.

Dimsmore: "One day Samson went to Gaza, where he saw a prostitute. He went in to spend the night with her. The people of Gaza were told, "Samson is here!" So they surrounded the place and lay in wait for him all night at the city gate. They made no move during the night, saying, "At dawn we'll kill him."

Dimsmore: "But Samson lay there only until the middle of the night. Then he got up and took hold of the doors of the city gate, together with the two posts, and tore them loose, bar and all. He lifted them to his shoulders and carried them to the top of the hill that faces Hebron."

Lacy begins the more detailed part of her mask. She pulls out a fine brush and begins to work around her eyes. Dimsmore continues to read in the background.

Lacy: No more excuses. No more hiding. No more shenan… shenan…. shenan…. childish antics.

Dimsmore: "Then the rulers of the Philistines brought her seven fresh bowstrings that had not been dried, and she tied him with them. With men hidden in the room, she called to him, "Samson, the Philistines are upon you!" But he snapped the bowstrings as easily as a piece of string snaps when it comes close to a flame. So the secret of his strength was not discovered."

Lacy: Riot was the precursor. This is the prelude. When Dimsmore's hand is raised, that will be the culmination. And when our Overlord becomes the OCW World Champ, that will be the armageddon.

She places the brush and begins to apply her lipstick. Dimsmore continues reading.

Dimsmore: "He replied, "If you weave the seven braids of my head into the fabric on the loom and tighten it with the pin, I'll become as weak as any other man." So while he was sleeping, Delilah took the seven braids of his head, wove them into the fabric and tightened it with the pin."

Dimsmore: Again she called to him, "Samson, the Philistines are upon you!" He awoke from his sleep and pulled up the pin and the loom, with the fabric.

Lacy continues with the paint detail around her lips.

Lacy: It's ok to be scared.

Dimsmore: "So he told her everything. "No razor has ever been used on my head," he said, "because I have been a Nazirite dedicated to God from my mother's womb. If my head were shaved, my strength would leave me, and I would become as weak as any other man."

Lacy: It's ok to be afraid OCW.

Dimsmore: "After putting him to sleep on her lap, she called for someone to shave off the seven braids of his hair, and so began to subdue him. And his strength left him."

Lacy: We are here for your appre… appre… appre.. your suspicions.

Dimsmore: "Then she called, "Samson, the Philistines are upon you!" He awoke from his sleep and thought, "I'll go out as before and shake myself free." But he did not know that the Lord had left him."

Dimsmore: "Then the Philistines seized him, gouged out his eyes and took him down to Gaza. Binding him with bronze shackles, they set him to grinding grain in the prison."

Lacy: Dupree…. OCW….. tonight you will….. Embrace….. Your….. Fear!!!

Lacy lets out a cackling laugh as we head back to ringside.
The Camera pans to the announce team!
| | |
| --- | --- |
| | This is going to be one of the most memorable matches in the history of OCW! |
| | I Can't wait! |